Earlier this week, 32 squads from the Middle East, North America, South America, Europe, South Asia and Wildcard region dropped into the Semifinals stage of the PUBG MOBILE Club Open 2019 Fall Split. After days of all-out competing in the tactical tournament games, 16 teams rose to the top and secured their spot in the Regional Finals beginning on Friday, Oct. 18.
Leading global technology company Vivo is the official title sponsor of the PMCO 2019, providing smartphones to empower players' conquest at the competition. Vivo's fast performing and powerful smartphones provide a seamless gaming experience, making it a special weapon loved by tech-savvy consumers globally.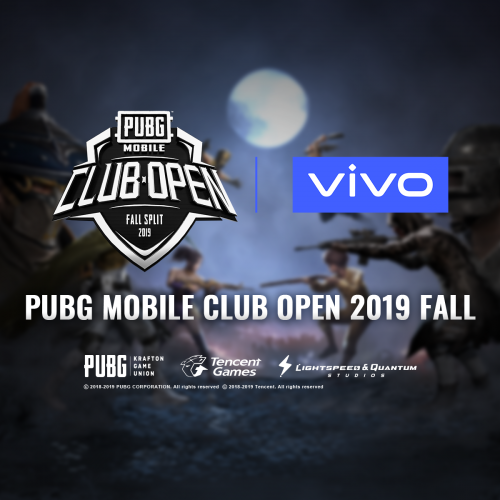 The qualified top 16 squads stood out from Semifinals will then move on the compete in the official Regional Finals competition starting from mid-October for their chance to win the
PUBG MOBILE Club Open 2019 Fall Split Global Finals
in Kuala Lumpur, Malaysia. Community members can tune in to the official
PUBG MOBILE Esports YouTube channel
to witness the tournaments live.
As the PUBG MOBILE Club Open 2019 Fall Split continues, the accolades are also rolling in for PUBG MOBILE. The smash hit mobile game has recently been nominated for "eSports Game of the Year" in the Golden Joystick Awards 2019. The judging is open to public vote, and players and community members can place their vote for PUBG MOBILE through the official link here.
"It is an incredible honor to be the only mobile title nominated for the "eSports Game of the Year" at the Golden Joystick Awards," says James Yang, director of global Esports from PUBG MOBILE. "Our inclusion is not only a testimony to how PUBG MOBILE continues to pioneer competitive mobile games, but also to how the mobile esports industry has grown."
The PUBG MOBILE Club Open 2019 provides a path for aspiring semi-pro to become esports professionals and the chance of a total prize pool of $2.5 million USD. The PMCO Fall Split Prelim matches from Saturday, Nov. 23 through Monday, Nov. 25 and the Global Finals from Friday, Nov. 29 to Sunday, Dec. 1 will take place at the Putra World Trade Center (PWTC) in Kuala Lumpur, Malaysia.
Stay tuned at PUBG MOBILE Esports Channel to get more information.
PUBG MOBILE is available to download for free on the App Store and Google Play.
ABOUT PUBG MOBILE
PUBG MOBILE is based on PLAYERUNKNOWN'S BATTLEGROUNDS, the phenomenon that took the world of interactive entertainment by storm in 2017. Up to 100 players parachute onto a remote island to battle in a winner-takes-all showdown. Players must locate and scavenge their own weapons, vehicles and supplies, and defeat every player in a visually and tactically rich battleground that forces players into a shrinking play zone.