The General® Insurance and NRG Esports announced today the winning jersey design for The General NRG Rocket League team's new jersey for Rocket League Season XI. From July 6th through July 20th, fans voted for their favorite from four jersey designs. The vote for The General NRG's new team jersey for Season XI drew vast amounts of excitement from the fans.
The winning jersey design also includes a notable patch on the front right bottom displaying a trophy representing the World Championship win in 2019 surrounded by multiple stars – one star for every major Rocket League event won. The General NRG team recently concluded a successful Season X and added the sixth and seventh stars to the patch after winning the Rocket League Championship Series X Spring North American Major this past May and the Rocket League Championship Series North American for Season X in June.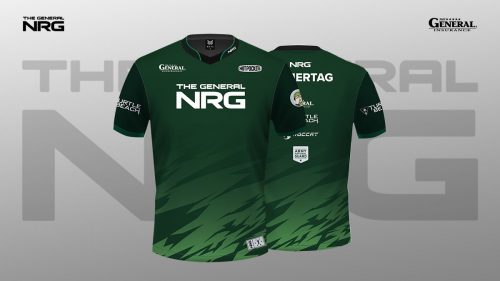 The General NRG Rocket League team has consistently proven to be one of the most competitive teams in the space and this unprecedented partnership between the two brands that was announced in April continues to set the team up for more success and growth. In addition to the jersey fan vote, The General NRG partnership – a first of its kind in North American Rocket League history – also includes the team's naming rights, as well as elevating NRG's owned and operated "The Grid presented by The General" Twitch streams and productions to give viewers an even better experience.
Shaquille O'Neal, a part-owner of NRG and longtime brand ambassador and loyal customer of The General, was instrumental in bringing this partnership together. He recognized the clear alignment between the two brands when it comes to their audiences. From the very beginning, there was a natural synergy between the high-octane gameplay of Rocket League and the need for quality car insurance at affordable rates. This partnership was also a natural extension of The General's recent brand refresh and new ad campaign starring Shaq to dispel misperceptions of the brand and invest in programs that reflect the diverse backgrounds and interests of its customer base.
The General NRG will debut the winning jersey design for Season. The new jerseys are also available for purchase at shop.nrg.gg.