The future of videogames is brighter than ever as USC Games, North America's No. 1 game design program for nearly a decade according to the Princeton Review, along with event sponsor and partner Jam City, will host the virtual 2020 USC Games Expo starting 2 p.m. PT on Tuesday, May 12 on a variety of streaming platforms, all accessible on www.USCGamesExpo.com.
Anyone interested in attending can RSVP for free here.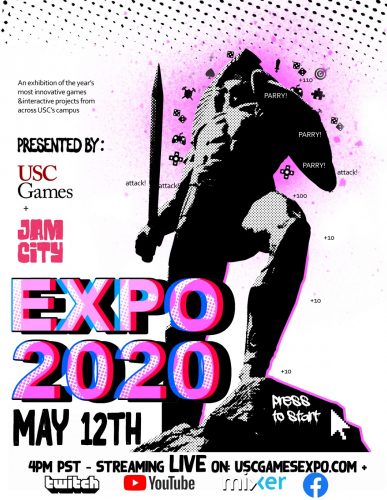 The 2020 USC Games Expo livestream will be hosted by The Game Awards host and producer Geoff Keighley, and feature a wide range of games and student projects designed to showcase the industry's bright future. More than 50 games will be available to play and download, and in all more than 90 student videogames will be highlighted throughout the Expo. Several drop-ins are scheduled during the stream from entertainment and videogame celebrities, too.
High school and middle school attendees can also join a special student-focused Expo preview on Monday, May 11 at 10 a.m. PT. The students-only event is designed to provide access to USC faculty and students who can discuss the potential for continuing education and careers in the videogame industry. RSVPs for the students-only event are here.
"Although we can't hold the Expo in person as usual, this year's virtual Expo provides an unprecedented opportunity for our program to reach a global audience of videogame fans and potential future USC Games students and parents," said Danny Bilson, director USC Games Program and screenwriter for upcoming Spike Lee film Da 5 Bloods. "Despite all the uncertainty in the world, the ongoing demand for videogames, and those who create them, is higher than ever, and we're eager to share a look at our wide range of games that highlight the future direction of the industry."
Previous games that made their debut at the USC Games Expo include award-winning projects such as Mobius Digital's Outer Wilds and Thatgamecompany's Flower. This year's lineup brings a diverse set of titles ranging from a physical-therapy simulator, a VR game that helps players feel what it's like to be a black person in America, to a game that uses eye-tracking technology to escape from a dark room.
The USC Games Expo is the largest University-sponsored gaming and esports event in the world, traditionally hosting over 2,000 live attendees. The show has been sponsored by Jam City each year, and provides glimpses into the nation's leading game design program and the next generation of tabletop, mobile, AR, videogames and other interactive projects from across the university's diverse students, alumni and faculty.