PLAYERUNKNOWN'S BATTLEGROUNDS Continental Series 3 (PCS3) continues after action-packed qualifying stages across Europe, North America, Asia-Pacific, and Asia, which saw 16 teams from each region advance to their regional Grand Final events. To find out which teams made the Grand Finals, please visit the PUBG Esports page. Fans can watch all the Europe Grand Final action on Twitch starting at 18:00 GMT/19:00 CET every day on the 7-8, 14-15, and 21-22 of November.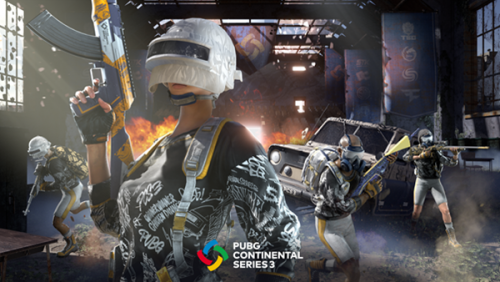 PCS3 Items and Revenue Sharing
The PCS3 Grand Final brings the return of PCS items and the Pick'Em Challenge. On PC and console, fans can gear up and celebrate PCS3 by purchasing an exciting array of celebratory in-game items, with 25% of revenue being distributed to participating teams across the four regions. Of that amount, 12.5% will be added to the $800,000 USD global prize pool and 12.5% will be split equally amongst all participating rosters. Every PCS3 item purchase will grant at least one voting coupon that can be used for the PCS3 Pick'Em Challenge. To date, the previous two Pick'Em Challenges have raised the PCS1 and PCS2 prize pots from $1.6 million USD to $3.3 million USD.
PCS3 Pick'Em Challenge Details
The PCS3 Pick'Em Challenge offers fans a chance to obtain rewards for guessing the winners of each regional tournament. A voting coupon is required to cast your vote and can be obtained by purchasing PCS3 items or by earning free coupons through watching the live tournament streams. Successfully predicting the winners will award players Esports Points (EP) that can be redeemed for more exclusive in-game items. EP can also be gained through Twitch drops and by predicting which teams will place higher than others. This specific voting mechanic, known as Team Faceoff, does not require voting coupons and is open to all. For additional details, please visit the recently published blog.
PCS3 Europe Grand Final Teams
After six days of action at the PCS3 Europe Group Stage, the following 16 teams have qualified for the PCS3 Europe Grand Final: Natus Vincere, Northern Lights, Digital Athletics, FaZe Clan, TSM, Omaken Sports, ENCE, shiftW, Team Liquid, Saunabois, Redline, Etiget Esports, Tornado Energy, Bystanders, WinStreak, and PinkPony.
With Northern Lights, TSM, and FaZe Clan winning the last three PCS events, the stage is set for the titans of Europe esports to battle for their second title – or for one of the 13 other teams to make their mark on the region.
For more information on PUBG esports and PCS3, please visit the PUBG Europe esports site