KRAFTON, Inc. announced a series of distinct PUBG content updates and events planned for June 2021. In addition to announcing major planned PUBG content drops for the rest of 2021, inclusive of complete visual update for Miramar launching in early-June, the company revealed its upcoming in-game brand collaboration with El Solitario (European motorcycle brand), a new limited-time Racing Mode and Season 12 details.
PUBG  2021 DEV PLAN – WORLD
In the first of two planned 2021 Dev Plan updates, KRAFTON outlined the roadmap of new PUBG content expected to release this year. In early-June, the Miramar map will receive a full visual update. The company also announced that PUBG will receive two completely new 8×8 maps in Q3 2021 and Q4 2021/Q1 2022, respectively.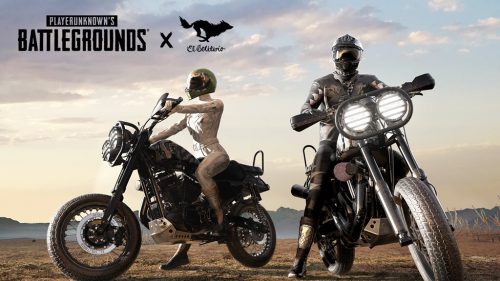 Miramar Updated (PC: 2 June, Consoles: 10 June) – This map saw a slight refresh in 2019 with the introduction of new aesthetics and lore elements. This summer, however, Miramar will see a major visual update that leverages the newer technologies KRAFTON employed in recent maps like Paramo and Haven. The map will be available as part of PUBG's Season 12.1 update.
New Map – "Codename: Tiger" (Q3 2021) – Following the remastering of Miramar, KRAFTON will release its first new 8×8 Battleground since 2018. "Tiger" will feature many of the key aspects fans have come to expect with new PUBG maps. However, it will introduce a major new gameplay mechanic to PUBG: the ability for players to return to the battle after an initial defeat.
New Map – "Codename: Kiki" (Q4 2021 or Q1 2022) – Later this year or in early 2022, KRAFTON plans to release its fourth 8×8 PUBG map – "Codename: Kiki." This map will feature a diverse set of locations, from mysterious underground labs and massive skyscrapers to swamplands and underwater buildings. While the map is still in early development, KRAFTON plans to share additional details later in the year.
For additional details related to PUBG's first 2021 Dev Plan update, please click here. Part two of the 2021 Dev Plan, which will focus on focus on core gameplay and service updates, will be shared later this summer.
PUBG x EL SOLITARIO COLLABORATION
KRAFTON recently revealed its collaboration with El Solitario, the popular Spain-based motorcycle company that is actively driving classic motorcycle culture throughout Europe. In celebration of both company's instincts to take on new challenges and create their own trends, KRAFTON will introduce El Solitario's popular "Desert Wolves" off-road motorcycles and themed outfits to PUBG from 1 June through 30 December.
LIMITED-TIME RACING MODE
To complement PUBG's collaboration with El Solitario, a new Racing Mode will be available to play for a limited time. This mode, which is available on Miramar, features two distinct race types: solo and squad (up to four players).
Players who own the El Solitario Desert Wolves vehicle skin will see it automatically applied to the Motor Bike vehicle.
Racing Mode will be available 2-14 June on PC and 10-21 June on consoles.
SEASON 12.1
In addition to introducing a remastered Miramar when it releases on PC on 2 June and consoles on 10 June, Season 12 will also introduce a new ranked season, expanded customisation options, a new weapon and a new vehicle.
New Ranked Season – Update 12.1 marks the beginning of a new ranked season, meaning all rewards earned during the Ranked Season 11 will be automatically added to players' inventory once Season 12 goes live on 2 June. Similar to Ranked Season 11, Ranked Season 12 will run for a two-month period.
Weapon Skin Upgrade System – The new weapon skin upgrade system will make its debut with 12.1, allowing players to evolve the cosmetics of certain weapon skins by consuming specific in-game materials and goods. Acquired from the Weapon Skin Lucky Box, these evolutionary weapon skins will gain new features as they are levelled up.
New Weapon – Lynx AMR – Available through Care Packages in Miramar normal matches, the L6 Lynx is PUBG's first Anti-Material Rifle. This semi-automatic crate gun is capable of penetrating military equipment, and armoured players or vehicles. Intended as a hard counter to vehicles, the L6 remains an effective sniper rifle against players when used wisely.
New Vehicle – Quad – Available on Miramar, this all-terrain-vehicle (ATV) has four low-pressure tires with the driver seat designed to be straddled by the operator, with handlebars for steering control. It is modelled after a racing style ATV but includes a rear seat for a second occupant.
Lobby Ball – While waiting on the starting island for a match to start, players will now find a football (soccer ball) they can kick around with other Survivors. Players can dribble, pass, and shoot the football (soccer ball) while they wait, or even coordinate a short game of football (soccer) if they like.
Season 12 launches on 2 June for PC and 10 June for consoles. Survivors who want to preview Update 12.1 can do so today on the PC Test Server. For more information on Update 12.1, please view the full patch notes here.
For the latest information on PUBG, please visit www.pubg.com